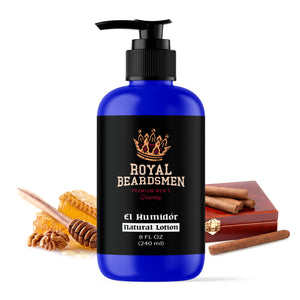 My new favorite lotion
I just wish it came in a bigger bottle because I keep reapplying just to smell it. It's a lotion so the scent fades after maybe 90 minutes but it's so pleasant until it finally fades or at least you get used to the scent
Honest review of "El Humidor"
There are no words I could use to properly describe the amazing scent that this lotion has. It is in no way overpowering but still lingers for a long time. Very sophisticated. Wish they had a perfume with this smell! Its also feels very good on my skin and I love the bottle! Will 1000% order again! Thank you
El Humidor
Ordered the El Humidor lotion. Very pleased with the product.
Smells great.
The lotion smells great. However the bottles are smaller than I was anticipating.
El Humidor Lotion
The lotion is great. It doesn't feel oily after applied, and haves a great spell to it. El Humidor is my favorite but all of the stuff in this shop is great.
---