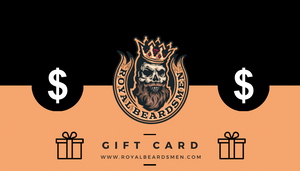 Great Products
I purchased the oil sample pack (11 count) and really enjoyed most of them with the standouts being sire, kings lagoon, and bonfire brandy. If you're like me and have no idea which scent to start with, go with the sample pack!
Awesome
Great products and scent profile of Cavalier. Definitely recommend giving them a try if you have not already! Keep up the great work.
Gift
I bought a gift card for a friend b/c this is his favorite place to make such purchases
Gift Card
I was a winner of Dan C Beardeds 12 Days of Beardmas giveaway. The gift card came promptly and worked with no issues whatsoever. I would definitely recommend getting a gift card for anyone that needs a gift of great beard care products.