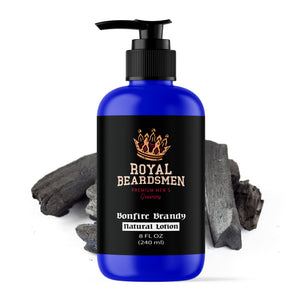 Great product with better service
Royal Beardsmen is a true gem in Spring Hill. Great products that smell amazing. Truly wonderful service whether by email or in store. Check them out!!!!!
Bonfire Brandy Natural Lotion
Nevel Failed to Amaze me
I have tried several products and they all have been great. I hope that you remain excellent for years to come, for our beards sake :)
This is my first time trying this lotion and so far it is great. It doesn't leave a sticky feeling after use, and it smells just like the same as the bonfire brandy beard oil... Which is wonderful!
Bon Fire epicness
This scent is truly epic. The bees knees
Amazing lotion
This is by far the best lotion I have ever used the scent of the Bonfire Brandy is addicting. It is non greasy and the scent lasts for a very long time. I highly recommend you wont be disappointed .