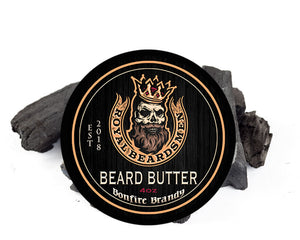 Royally Great Product
Royal Beardsmen didn't disappoint. I was skeptical about the butter vs. balm, but I'm sold on the Butter. Love how it smells and how well it works on my beard. Not sure how it works, but it does just enough to tame the frizzy hairs and make styling a breeze. Most of all, I love the scents. I bought the Bonfire Brandy and Dragon Spice. I love both and I'm looking forward to trying other scents.
Good stuff!
The scent is perfect, and actually makes my beard soft!
best stuff for my beard
melts instantly in the hands. feels great in my beard and smells terrific. like an overnight hike in the the woods with a flash and campfire. awesomeness
Royal Beardsmen Haiku
Use Royal Beardsmen
Good stuff to put on your beard
Your wife will dig it
Bonfire Brandy beard butter
The bonfire brandy beard butter is awesome. Makes my beard soft and smell great also