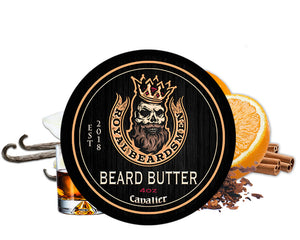 Cavalier Premium Beard Butter
This product is great! It is the right balance of smelling great, but not like somebody handed a teenager their first can of body spray. More to the point, IT WORKS. My beard stays soft all day. A great product!
Smooth
Definitely an awesome purchase ! After a clean start, it ends with a very smooth application of the Cavalier conditioning and along with this incredible scent this soft beard last all day. No beard should go without this conditioner.
Love this scent!
This is by far my favorite and go to oil and butter combo. Feels light in beard yet keeps the moisture and shine I like. Plus the scent is a Lady Killer for sure!
Excellent
Great feel in beard, nice hold, great scent profile that stays with you all day and you don't get tired of it. This butter keeps your beard moisturized all day long. Excellent butter from the Royal Beardsmen!
Top shelf beard care
Bought these for my husband as a gift. He us quite particular about quality ingredients, the beard balm is great quality lasts well is nice feel in the beard and the smell us just right, very natural and subtle.