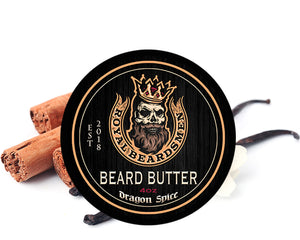 Love me some Dragon Spice!
Always the best
I had heard of Royal Beardsman in the 80's.
I considered it folklore.
In the year 2023, it has come to pass.
I am a Royal Beardsman.
Great products
I am six months into my big beard journey. Purchased the Dragon Spice beard oil, and butter. I love these products. Smells great(wife loves it too) beard is soft and as a mutual friend of ours said "It is a Majestic beard" 🤣 Also purchased the Tortuga Bay beard wash. Awesome product as well! Thank you Dan C. Bearded(YouTube beard genius) for your recommendation!
Bearded one
Dragon spice she might be nice but a little sniff of the dragon spice and on the wild side she goes yeah come on