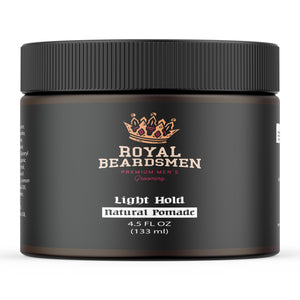 Awesome product
Word just simply cannot describe hiw satisfied I am with all of your products.
Awesome product works great!
These are wonderful products!
What I've tried and used is amazing.
Love the new pomade
Great product!!! I don't like putting chemicals in my hair so this product is perfect for me it has a good hold and I don't have to worry about it damaging my hair !!! 👍👍
This is Good!
After a few weeks use, this pomade will be in my regular rotation. I'm really satisfied with the results. My hair feels soft and healthy all day long and very easy to style with my hands through-out the day, not "sticky" at all whatsoever, like alot of other pomades I have tried over the years. My hair looked exactly the same at the end of the day as it did the first hour of the day, fresh and clean. My hair kept its hold all day. And my hair has a little bit of a styled-shine to it as well, which I liked, the shine is not obvious and noticeable or overwhelming, for me, it was a perfect "natural" shine to it. Any product Royal Beardsmen comes out with will be a 100% quality product, and this hair-pomade is no different, its another quality product from this company.