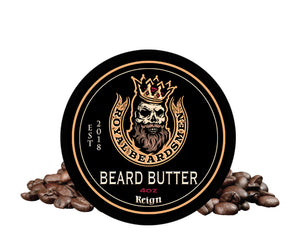 REIGN Beard Butter
I love coffee scent beard products and this one hits the mark for me. Plus the hint of caramel, vanilla, cinnamon, and toasted nuttiness just adds to a great scent. I love not only the scent but the way it makes my beard feel. Great product! Great company!
Butter
This butter is great. I wish the cooffee would be a bit less and more cinnamon but the product in general is great. RB is in my top 2 .
Tiramisu
This company rarely misses. This new Reign smells just like a tiramisu. Like a previous reviewer, I do wish the cinnamon was a bit stronger but that's just nitpicking. Incredible scent.
Reign Butter
the quality of the butter is fantastic as always with RB. The scent is nice, however more caramel than coffee. I was hoping for the coffee to be the star of this show, but once in the beard, it's all caramel. I do really like the scent overall, i just wish the coffee stood out more.