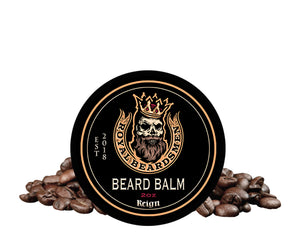 Coffee! Coffee! Coffee!
Quality! Aroma! Cafecito!! 😎🤙🏽
Reign Beard Balm
This is a great sent if you like the smell of coffee and I like the smell of coffee. Smells like coffee with amaretto creamer. The balm feels light and the scent lasts for a good while.
Coffee!
It's the best part of waking up, it's Folgers in your cup! When I tell you I love the smell of that coffee note.. I love it! Received quite a few compliments as if I had on a sweet (but still masculine) fragrance on. Definitely my no.1 beard balm
strong scent!
lasts all day, and takes a but to wash out, but smells good and will stay on even in the vegas heat
Reign
Awesome product!! Glad I switched over to you guys!!