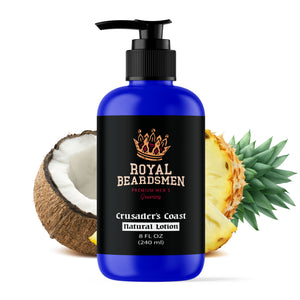 Crusaders Coast Lotion
I ordered the lotion along with another the El Humidor which was also great. But to my disappointment my wife decided she liked the Crusaders Coast lotion so much that it now resides on her night stand. She has told me I can use it once in a while, sparingly 😔
Order review
I love your scents, especially the Crusader's Coast.
Man, when I use that stuff I feel like "jumping aboard a pirate ship and sailing the seven seas! (if that makes any sense to you).
"Shiver me timbers" that Crusader's Coast is addicting.
I'm still using the sample oils from my first order. I like to use a different scent everyday.
Crusader's Coast
Tropical smell, great stuff!
Smells good
One of the best love this company now