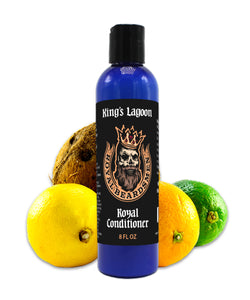 So clean
I bought this and the co-wash together when I first grew my beard. I haven't missed a day since. My job leaves me extremely dirty at times and this wash is fantastic. My girlfriend loves the scent, and I have to admit I'm a fan too now.
Royal Treatment
Have been using the King's Lagoon Royal Wash and Conditioner..my beard has never looked, felt or smelled better!! Not that my beard smelled bad. I mean, I don't have critters nesting in it but it smells great now! Scent is evocative of the tropics but manly.
Kinda lagoon beard conditioner
This is THE BEST smelling conditioner I've ever gotten my husband. Makes his beard all shiny and soft too! Love this!
Excellent
It gives an amazing bounce to my fluff ☁️-per my fiancé
A good wash
I like the scent. It's not over powering.